How we dress throughout our life changes. Seasons and years go by, preferences and impulses come and go, our own appearance undergoes a nearly eternal transformation. However, despite the external and internal changes, we can adapt our wardrobes more successfully if we have a good grasp on our best styles. To paraphrase the legendary designers Coco Chanel and Yves Saint Laurent: Fashion is a mere phase, whereas style is eternal.
What is my best style?
To look your absolute best, there are some factors to think about:
Colour: What colours do you suit the most?
Lines and shapes: Body shape, best silhouette, angular/rounded details
Fit: How the garment sits on your body and how tight/clingy or loose it should be
Proportion: Small, medium or big? How to find details and accessories that suits your scale
Style expression: A road map to a cohesive look using my Style Taxonomy system
A consultation with me will give you the answers to the bullet points. You will learn what works for you (make the clothes work for you – not the other way around!), and how to put together looks that best represent you and your taste. I was trained in Color Alliance and Signia i 2013, and these are the bare bones of which I have expanded upon and customised to create my own unique system.
When you have a style consultation with me, you will be given a style guide (Your Style Memoirs) that explains in detail your best silhouettes, line, proportion, shapes, fabrics, prints, style type, colour combination advice, undergarments, and so forth. You will be given illustrated examples of outfits that fit all the criteria and is tailored to your personal taste and any possible requirements you might have. Each guide is unique and shows you how each piece of the personal style puzzle fits together to create your own, most flatterering cohesive look.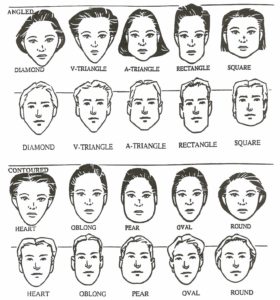 Lines and shapes
While the concept of body shapes might be familiar to many, the concept of inner and outer line might not be as known. The basic idea is that each body (regardless of body shape) is either linear, curvilinear or curvy. This is the outer line and refers to the general silhouette (regardless of Style Taxonomy type) and waist emphasis.
The inner line refers to your face shape and
whether that shape is rounded/contoured or more angular. When putting together your look, we will look at both inner and outer line to find your overall best shapes, necklines and so forth. In your Style Memoirs, these recommendations go together with your type to give you a list of suggestions for clothes, silhouettes, accessories etc. that works for you.